Submitted by

admin

on Tue, 26/03/2019 - 09:44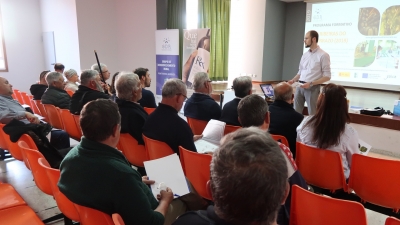 This Friday, March 22, a new edition of the training program "PROFESSIONALIZATION AND DEVELOPMENT OF VITICULTURE IN IXP RIBEIRAS DEL MORRAZO (2019)" of 71 teaching hours organized by the GDR Pontevedra Morrazo.
Since 2017, the Pontevedra Morrazo Rural Development Group, which manages the Leader 2014-2020 measure, is developing a training program for the professionalization and development of viticulture in the Ribera del Morrazo protected geographical indication.
In the years 2017 and 2018 various training activities were carried out aimed at reinforcing the empowerment of the winegrowers and winemakers sector in the IXP Ribeiras del Morrazo area, as well as their professionalization and technical training, thus strengthening the figure itself or seal of quality protection.
In this year 2019, we intend to continue the training with a proposal that delves into sustainability and good practices in viticulture and oenology, with references to integrated and / or ecological viticulture models and exploring collaborative actions between the wine IXPs themselves of Galicia and cooperative operation.
Objectives of the project
The training program aims to boost the wine sector, enhancing their knowledge and working together around what this seal of quality means.
The program will be carried out from March to June, in different locations of the IXP territory.
This work proposal will be based on a training-action methodology, whose fundamental objective is to carry out a practical training program that encourages the active participation of the agents involved in the development and articulation of the aforementioned protected geographical indication Ribeiras del Morrazo
The main objectives pursued by the 2019 training program are:
Continue reinforcing and empowering the sector of wine growers and winemakers of the area included in the IXP Ribeiras del Morrazo.
To improve the knowledge and professional qualification of the participants, in order to achieve a more dynamic, modern and proactive wine and wine sector.
Promote the generation of entrepreneurship initiatives linked to models, such as the cooperative.
Reinforce and make known the sector itself, with the realization of different activities, in different municipalities of the territorial area comprising the IXP, and the GDR itself.
The thematic content of this first training session was of an introductory nature and dealt with good practices, social responsibility and sustainability in viticulture and the regulatory aspects for the management of the wine and the cellar, controls, etc. within the IXP.
In total there will be 16 training activities, thirteen of them in the IXP's own area and three thematic visits outside the IXP territory