Submitted by

admin

on Wed, 05/09/2018 - 09:08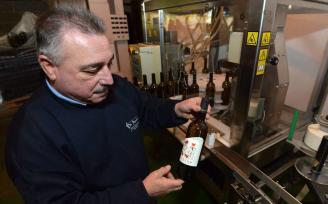 Date:
Saturday, February 3, 2018
After years of paperwork and after the approval by the European Commission of the coveted seal of quality at the beginning of the year, yesterday, at the Os Areeiros winery in Vilaboa, one of the wine growers' dreams of the region was fulfilled. light the first of the bottles of the new Protegida Xeográfica Indication "Ribeiras do Morrazo".
This was explained by the owner of the winery Os Areeiros and one of the promoters of this protected geographical indication, Guillermo Martínez, who pointed out that his is the first winery to bottle the wine of the past harvest when stocks last season. It is expected that in a few months the other bottles that are already attached to this seal of quality will also begin to bottle their first wines with the official labeling that demonstrates the origin of the wine with which they are made.
It should be remembered that this protected geographical indication covers the vineyards of the municipalities of Cangas, Moaña, Bueu, Marín, Poio, Pontevedra, Redondela and Vilaboa.
In the case of Os Areeiros, Martínez highlights that he expects to reach 25,000 bottles with this first labeling, of which some 21,000 would be white and the rest red. Martinez celebrates that the premiere of the IXP is produced, in addition, with a harvest that qualifies as exceptional and that has resulted in a wine that, he explains, is surprising everyone who tastes it.
Martinez highlights the importance of this milestone of the IXP for the entire economy of the region, which can see how wine also becomes an engine of the economy as in many other parts of Galicia.
To begin with, the new seal of quality obtained by these wines will allow them to open new markets and establish more ambitious objectives. He points out that if before the wine that bottled this winery went out, it focused on the primary sector and on direct marketing or catering establishments in the area; The IXP will allow winemakers in the region to think about a broader dissemination through the opening of new distribution channels on a larger scale. In the case of the wine that is produced in its winery, it is already present in markets such as Madrid and Andalusia and is in negotiations with distributors in Valencia and other communities.
The new label (which allows bottling indicating the varieties and the vintage to which it corresponds) also opens the doors of important events and fairs, such as the Gourmet Hall in Madrid in which this wine will already have a presence for the first time.
The IXP consolidates a wine whose quality was already contrasted, not in vain and despite not being framed in any indication or protected designation of origin, it had already been awarded important prizes in prestigious wine contests.