Submitted by

admin

on Wed, 05/09/2018 - 09:04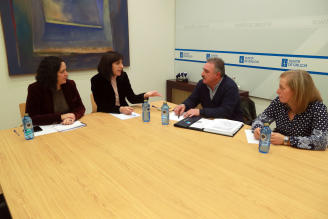 Date:
Tuesday, December 12, 2017
After five years of processing, the Indicación Xeográfica Protexida (IXP) Ribeiras do Morrazo is now a reality and the wine producers of O Morrazo (Cangas, Moaña and Bueu) and the other nearby municipalities of Marín, Vilaboa, Poio, Pontevedra and Redondela will be able to sell their crops covered under the labels of this quality "brand".
The European Union, as confirmed today by the Minister of Rural Affairs, Ángeles Vázquez, representatives of this indication in a meeting in Santiago, will register in the next few days the mark after the request made from Galicia was submitted to public exposure in the Official Journal of the European Union (DOUE) on August 5 and no allegations were presented.
According to the data of the consellería, the surface potentially producing of grapes for this IXP Ribeiras do Morrazo would be between 1.000 and 1.500 hectares, being the albariño grape variety more representative. In any case, for the production of this wine, the white varieties of caíño blanco, godello, loureira, treixadura, blanco blanco and torrontés are also admissible. According to the Viticultural Registry of Galicia, there are 25,414 winegrowers in this area, which have just over 73,000 vineyard plots, indicating that this is a territory with a smallholder production where a good part of the harvest is for self-consumption.
The processing of this Xeográfica Protexida Indication opens a new range of economic possibilities for wine growers, in fact in Cangas and municipal license was given for the opening of a winery in Pinténs, in O Hío, which is only pending the last bureaucratic steps in Health to be able to open. In the winery the wine will be labeled as "Ribeiras do Morrazo" next to the name that the grower will give to their bottles.